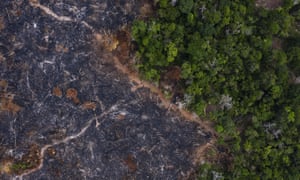 One would think that Covid-19 had pretty much put the world in quarantine and basically stopped almost all activities, except for food distribution to and health care for the population.
But there are some people abusing this quarantine. The deforestation in the Amazon actually has not stopped or decreased, it has in fact increased. That seems illogical at first sight but the absence of the environmental agents patrolling and more economic hardship in rural areas, has actually led to a 64% increase of deforestation in April 2020 compared to the same month last year (1). The illegal loggers obviously were not in quarantine and the poor population was trying to generate some income even when it was only helping the illegal loggers.
According to Brazil's National Space Research Institute (INPE) (2), which uses satellites to track deforestation, the chart below shows that starting a year ago, logging increased substantially over the previous 5 years and April 2020 was even worse than April 2019. The figure for May 2020 is as of 21st, therefore not for the entire month and therefore lower as last year's figure for the full month.
The current government has been known it is not doing much to stop illegal logging. According to Ibama, the Brazilian Ministry for Environmental and Natural Resources, since October 2019 thousands of fines for illegal logging were suspended and only 5 were actually issued (3).
According to a video which was released last Friday, the environment minister, Ricardo Salles said in a ministerial meeting in April that "we need to make an effort while we are in a quiet moment for press coverage because they only talk about COVID" (4).
That does not bode well for the future of the world's lung and could turn into a vicious circle where deforestation leads to more pandemics and during pandemics more deforestation will happen. Scientists have concluded that there is a link between wildlife and habitat destruction and viruses. According to the US Centers for Disease Control and Prevention (5), three-quarters of new diseases originate from animals driven from their natural into manmade environments.
Not only are we, the first world through our consumption and irresponsible lifestyle, indirectly responsible with help of the Brazilian government for the destruction of the primaeval forest and force animals closer to densely populated areas, but we also are destroying the thousands of known and undiscovered natural medicines hidden in the Amazon.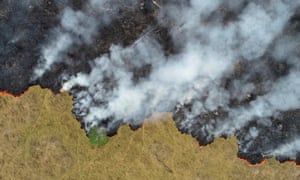 Brazil's rainforest is the world's biggest medicine cabinet with more than 80'000 kind of plants (6)
25% of all medicine we are using today, originate from there and many are promising to cure diseases like cancer (7).
It is a paradox that we are possibly destroying a future cure for a future pandemic by our lifestyle and ignorance towards nature.
I hope the quarantine gave us some time to rethink our life, our behaviour and our ignorance towards our mother earth. Let's try to live more sustainable, more attentive, more compassionate, more responsibly. Our planet is the only one we have.
References:
(1) Hale, T., 2020. As Covid-19 Continues, Deforestation In The Amazon Soars. [online] IFLScience. Available at: https://www.iflscience.com/environment/as-covid19-continues-deforestation-in-the-amazon-soars/ [Accessed 30 May 2020].
(2) Terrabrasilis.dpi.inpe.br. 2020. Amazônia Legal Brasileira – Avisos De Desmatamento. [online] Available at: http://terrabrasilis.dpi.inpe.br/app/dashboard/alerts/legal/amazon/aggregated/, [Accessed 30 May 2020].
(3) G1. 2020. Multas Por Desmatamento Ilegal Na Amazônia Estão Praticamente Paralisadas, Alerta Human Rights Watch. [online] Available at: https://g1.globo.com/natureza/noticia/2020/05/20/multas-por-desmatamento-ilegal-na-amazonia-estao-praticamente-paralisadas-alerta-human-rights-watch.ghtml [Accessed 29 May 2020].
(4) Phillips, D., 2020. Studies Add To Alarm Over Deforestation In Brazil Under Bolsonaro. [online] the Guardian. Available at: https://www.theguardian.com/environment/2020/may/28/studies-add-to-alarm-over-deforestation-in-brazil-under-bolsonaro-covid-19 [Accessed 29 May 2020].
(5) Watts, J., 2020. 'Promiscuous Treatment Of Nature' Will Lead To More Pandemics – Scientists. [online] the Guardian. Available at: https://www.theguardian.com/environment/2020/may/07/promiscuous-treatment-of-nature-will-lead-to-more-pandemics-scientists [Accessed 30 May 2020].
(6) Holland, J., 2019. Nature'S Pharmacy: The Remarkable Plants Of The Amazon Rainforest – And What They May Cure. [online] The Telegraph. Available at: https://www.telegraph.co.uk/travel/cruises/articles/how-to-be-a-botanical-buff/ [Accessed 30 May 2020].
(7) Loman, J., 2020. Medicinal Secrets Of The Amazon Rainforest – Amazon Aid Foundation. [online] Amazon Aid Foundation. Available at: https://amazonaid.org/medicinal-secrets-amazon-rainforest/. [Accessed 31 May 2020].